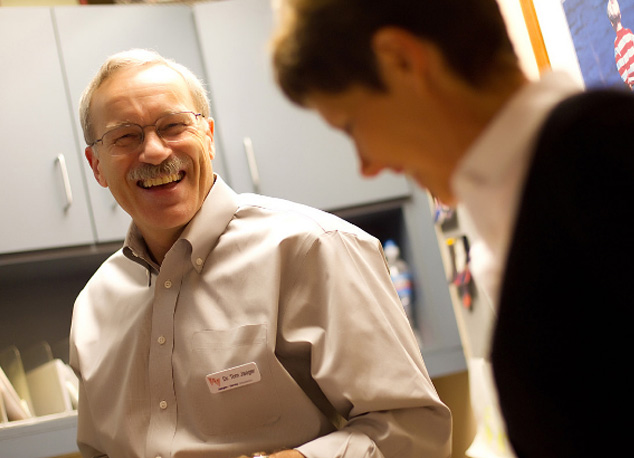 Dr.Jaeger's early experience with orthodontic care impacted his life and led him to a lifelong mission serving thousands of patients. He loves helping people of all ages develop confidence, as he did during adolescence. Furthermore, he cherishes the relationships that evolve as individuals discover the life-changing benefits of modern orthodontics: Beautiful smiles and healthy breathing go hand-in-hand.
A Foundation For Excellence
After graduating from the University of Montana with a Bachelor of Arts in Pre-Health Science and Zoology, Dr. Jaeger earned his Doctor of Dental Surgery degree from the University of Minnesota. He added advanced training in all aspects of dentistry at the Queens Hospital in Honolulu and gained valuable skills as a general dentist in Lolo, Montana. Drawing on his adolescence experience, he pursued a Certificate of Orthodontics at the Oregon Health Science University and has practiced specialty care in Idaho since 1986.
Dr. Jaeger believes that his patients deserve the best in modern healthcare, and he's completed advanced training throughout his career with the finest educators in the world. As a result, over 10,000 patients have benefitted from fantastic smile designs that improve function, breathing, and wellness, too.
"My life has been enriched by being involved with so many unique people with different life experiences.  However, I'm always amazed at how similar we are; we share the same hopes, dreams, and needs for our families.
The Jaeger Orthodontic team has worked together for many years and loves serving patients. In fact, some of his valued staff have been with him for over 20 years. He takes deep joy in working alongside others who share his passion for excellence and making a difference in lives.
"I have an amazing team of intelligent, responsible, hard-working staff members with great families that are well-respected in our community. They are truly a joy to work with."
Family, Community, Service
Dr. Jaeger and his physician wife, Mary-Alice, are blessed with seven exceptional children. Mary-Alice is Board Certified in Sleep Medicine and Family Medicine.
Her sleep medicine practice, Breath of Life, offers sleep health diagnosis and care  coordinating interdisciplinary airway health solutions in their shared Coeur d'Alene office.
When he's not caring for his patients, Dr. Jaeger enjoys supporting his family's many activities or swimming, biking, running, weightlifting, skiing, hiking, or rowing. He's also devoted to Bible study, reading, and precious time with friends and family.
The Jaegers draw inspiration from the history of service in their families. Dr. Tom Jaeger's father exemplified servant leadership as president of a large construction company in Minneapolis. Dr. Mary-Alice Jaeger's father was a minister, and her mother was a physician; together they served as missionaries in Pakistan. As a family, the Jaegers love being a living, breathing part of the Coeur d'Alene community and sharing their gratitude for the people they're privileged to serve.
"I feel that I can truly make a difference in my patients' lives by serving them in such a way that they are encouraged and empowered to make a difference in their lives and the lives of others."
Professional Affiliations
American Association of Orthodontists
American Dental Association
Idaho State Dental Association
Idaho Panhandle Dental Association
North Idaho Maxillofacial Review Board
Pitts Progressive Group Member
Spear Study Club Member
American Academy of Dental Sleep Medicine
American Academy of Sleep Medicine
Airway Health Solutions
HealthyStart
Pediatric and Adult Airway Network of New York
Airway Orthotropics Mini-Residency
OSA University